Details
SPECIFICATION
This RF-603N II Remote Flash Trigger Kit from Yongnuo features two 16 channel, 2.4 GHz transceivers as well as a shutter release cable for remote triggering of Nikon cameras with a DC2 connection. Each transceiver has a male camera shoe on the bottom as well as a female hot shoe on top for triggering a flash unit. The system has a wireless range of 328' and can sync at speeds up to 1/320 second. Additionally, it has a dual-function shutter release with half-press and full-press capabilities.
The transceivers can be placed in either single transmit or transceiver modes depending on your needs and can wake up flash units and cameras. Also, it has 2.5mm and PC sync ports for using additional cables in order to connect studio flashes or to different cameras. This kit comes with a shutter release cable for the DC2 connection. Also, each trigger runs on 2 AAA batteries.
Compatible Cameras
Nikon: D90, D3100, D3200, D5000, D5100, D5200, D5300, D7000, D7100, D600, D610, D750, Df, and COOLPIX P7800
Product Highlights
Frequency: 2.4 GHz
Range: 328'
Channels: 16
Flash Sync Speed up to 1/320 sec
Dual-Function Shutter Release
Can Set Transmit and Transceiver States
Hot Shoe Mount
PC Sync and 2.5mm Ports
Shutter Release Cable Included
Each Trigger Runs on 2 AAA Batteries
SPECIFICATION
Frequency FSK 2.4 GHz
Range 328' (100 m)
TTL Dedication No
Channels 16
Modes Single transmit Transceiver
Max Sync Speed 1/320 sec, depending on camera used
Ports Shutter Release:2.5 mm Studio Flash: PC sync
Battery 2 x AAA batteries (not included) per trigger
Battery Life Standby: 45 hours
Dimensions 3.2 x 1.4 x 1.2" (81.5 x 37.0 x 30 mm)
Packaging Info
Package Weight 0.35 lb
Box Dimensions (LxWxH) 6.142 x 3.543 x 1.811"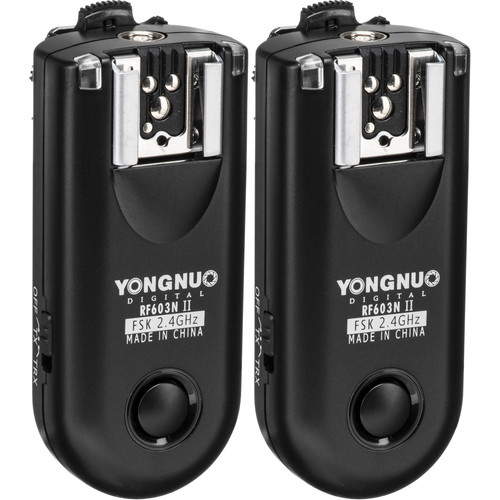 No reviews posted yet for this product.